Friday, May 8th, 2009
---
10:02 pm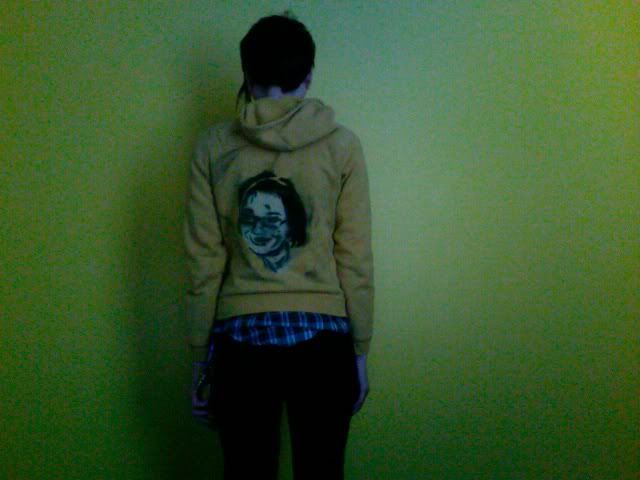 tried to stay really busy on may 6th. never again watch the film, "un chien delicieux." drew happy dogs in sketch book and squares that said shut the hell up, two days later. going home for a month-long visit in 7 days. i have a direct flight down this time, thank god.
note of the semester, graphic design forum is so different than the fine art forum, which is a much too thick and deep with bullshit for me. i have taken fine arts classes to escape the pressure i face in design, only to face pressure of more competition of the strangest type...i don't really get competing to be the weirdest/most suffering/most well-read/most full of shit and able to talk about nothing for the most amount of time.
upon looking through my photographs from diane/nicole journeys in 2007, i noticed at least 50 percent of my photos show interest in structures and graphics.
note to self, i know nothing about being an academic exhibiting sculptural artist, and i don't take it serious enough, and this offends people who do.
i'm surrounded by insincere people, people who have no experience of life, and try to draw relationships to themselves and those who have had life experience, suffering, and meaningful relationships. it's a really strange place to be sometimes, thank god i get on great with design folks, printmakers, and photographers.


get me home to my purple bike-riding mom and my dad's plaid shirts and tall citrus trees, the family smiling stuffed-potato dog, and 16-year old pet goat.

above all the bullshit there's a lot i miss, and a lot i don't.

---

i wish i had this...but below are the lyrics to
one of my favorite songs, forgotten/lost on a mixtape somewhere in gainesville when i was 19:


An old women she just told me
this is the lonliest life she has ever seen
every wrinkle is a monument
meant for dust and decay
the painter understood this
spreading the evening sky with crows
the sky all black placenta
its too big to ignore

pull out the lawn chairs,
and watch the angels rip out their wings
my sweet eternity,
you were more than i bargoned for
i guess all good things come to an end

each breath is a monument
every blink of the eye
or is it like a photograph,
another day gone by

pull out the lawn chairs,
and watch the angels pull out their wings
my sweet eternity,
you were more than i bargoned for
all good things come to an end --- lullaby for the working class
Friday, May 1st, 2009
---
1:57 pm
- "Ache" by jawbreaker
I believe in desperate acts.
The kind that make me look stupid.
(Look like a fool)
Just keep reinventing myself.
It's move or die.
(I change my form)
These days the people I love
are spread so far apart.
(All out of reach)
It's a thin sheet
Across the face.
(Cover me now)

That's pretty old.
I never felt like this before.
I say that every hour.

It's never going to be like it could have been.
Now it's just this room.
(Window looks back)
You're a big part of it.
But I don't care.
(You take the lead)
And can you really see me now
Like I made me?
(Made me anew)
Just like anyone at all.
Safer alone.

So right, so wrong.
Another winter's coming on.
You win, you lose.
It's the same old news.
(These things go wrong so often)
Pick up the phone
and punch your home code.
Somewhere, sometime let me make you mine.

Lean your head on mine
Like you used to.
(Used to your lean)
I don't mind if you're faking it.
(Make it seem real)
I'm not asking the questions.
I'm not demanding the answers now.
(Take what you give)
Right or wrong, just take me,
lead me on.
I'm going.

---

in 5 days, two years since you've been gone. summer starts with this memory. and all the memories until july scare the shit out of me so i never think about them. i still haven't thought about most of those things, and they leak out into my life like puddles of blood collecting under my skin. i try to face some of it, when i can.

i miss you so much. i think about the flashes of memory i have, and it's still hard. i accept it, i believe it, i know it, i know you're not coming back....and sometimes i don't feel it like i want to think about it.
i had a dream about you a few weeks ago, i was crying again and you were laughing at me. maybe you show up just to let me know you're still there. in the dream i'm always crying, and you're always laughing, as if to tell me, don't be sad, i'm not sad, there's no reason to cry.
i always wonder why you're laughing when the fact that you're gone is so sad, but i guess i'll never quite get it. never met anyone like you in my life, i don't care what anyone says or anyone else remembers about you, i really knew the person you were under all of those things. and i'll always love you for the person you were.
Thursday, April 30th, 2009
---
3:44 pm
- graphic design nerd-out beware
Thursday, March 5th, 2009
---
3:07 pm

Chimes - goddamn, youre looking old
Youll freeze and catch a cold
cause youve left your coat behind
Take your time
Breaking up is hard, but keeping dark is hateful
I had so many dreams, I had so many breakthroughs
But you, my love, were kind, but love has left you dreamless
The door to dreams was closed. your park was real dreamless
Perhaps youre smiling now, smiling through this darkness
But all I had to give was the guilt for dreaming

We should be on by now - david bowie
Thursday, February 26th, 2009
---
2:17 pm
"Little Golden Books
are books to grow with.
They entertain, they inform, they stretch
the boundaries of the imagination.
Their wide variety of stories and
subjects and their lively, inviting
illustrations have made them
popular with children and parents
for more than forty years. Because
children love them, Little Golden
Books are an ideal introduction to
the world of reading.

Written and illustrated by some of
the best children's book authors
and artists, Little Golden Books
are known by their gold-foil
binding-and by the pleasure they
bring to children."



remember the hand holding books
Wednesday, February 25th, 2009
---
12:18 pm
Big monster
Big monster lover
A bigger pusher over
Stands alone in most walks of life
Walks alone in most walks in life

See you looking through me
Like you've unzipped the zipper
You hold the big picture so well
Can't you see that we're going to hell

Couldn't park that fucking car
Couldn't part from you
Saw the back of your sweet mother's head
Now I know that she thinks I am dead

Burnt flavor you hold the big picture so well
Can't you see that we're going to hell

Big monster lover
A bigger pusher over
Stands alone in most walks of life
Walks alone in most walks in life --catpower
Monday, February 23rd, 2009
---
1:51 am
i need a vacation from my brain. just a short one. please
Sunday, February 22nd, 2009
---
11:39 am
- the pretty hand of beaded flowers
he is to me like
disappearing ink
a pen on fabric
a transparent mire-
spinning;
a crank and wheel shaft,
blue blanket
and comes the night
oranges and pillows
through the eye
and the foreign smell of
skin.
Friday, February 20th, 2009
---
4:41 am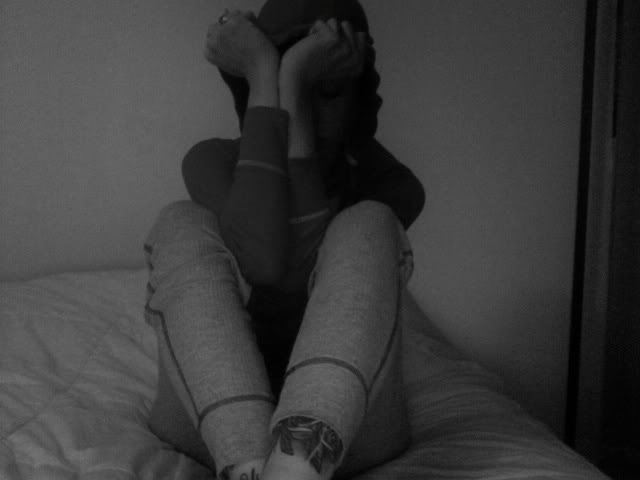 ---

i did an applique and quilt piecing today during one of my demo classes. the half-semester project i'm working on is labor intensive and kind of obsessive in nature, and really personal....so all of my samplers for fibers demos have been kind of funny and light-hearted. my applique is a reverse-applique that spells out FUN. i have so much of a love for typography and i realized i always have....kinda funny to me how i have to force myself to be cheesy...usually nothing i do looks fun after i'm done with it. it looks like it's a damn wreck. i felt cheesy for three hours and it was great. then i put on about four jackets and waddled to the bus and as i was walking across the street i almost got hit by an suv running a red light, and cursed at the guy and spit on his car. i'm glad i am learning to handle my anger in a mature fashion.
that incident brought up a lot of things i didn't feel like thinking about.
then i came home, read a bunch of crap, and wrote a paper on two films and the international non-fiction film scene about 1930's....lots of shady things going on with information and funding...big surprise.
money and information are silly little friends.
non-fiction is a farse.
but i hate philosophy.



on other interesting things.....
i am thinking about how nice it would be to have a new pillow soon. mine is about flat as a piece of cardboard.
it's almost 5 a.m., and i'm getting up in 2 hours. i hope one of these days soon i start sleeping like a normal person.



goodnight
Wednesday, February 18th, 2009
---
10:32 am
- rain, by joris ivens (1929)
8:22 am
- on people and things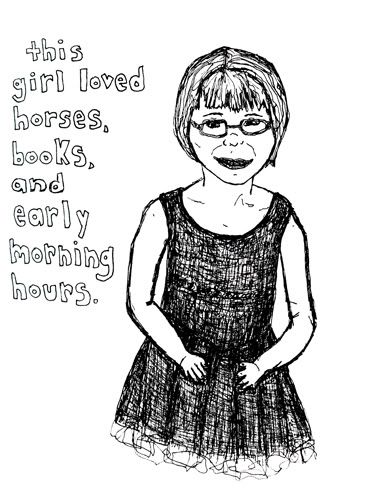 One time Kelly Wallace helped me put on a garter belt because i couldn't attach it to my stockings properly. Her favorite book was The Unbearable Lightness of Being by Milan Kundera.
There are many other things. As time goes on, i guess i become more selective with what I share. and in doing so, I forget a lot. Above is a sketch I did of her as a little girl. I miss her smile.



I've recently started a project of "processing" a single document through the manifestation of an artwork. This idea of collection, preservation, the memory of meaning in objects, and self-identity in archival..... in holding onto something in a physical sense....it has always kind of fascinated me. i truly believe that if possible, one should wipe his/her life clean of all of these things, at a moment when there are too many of these things --- to know that there is no real value in objects to comp memory or time.


i've sought comfort in these objects before, and i will continue to do so. collecting, hoarding, preserving, archiving--"remembering"..... this is what people do. but to understand and really feel that if i were to walk away at any point, that i have lost nothing new, this is, at the very least, my heart's goal.
Thursday, January 29th, 2009
---
1:56 pm


"Well my friend, I see your face so clearly
Little bit tired, little worn through the years
You sound nervous, you seem alone
I hardly recognize your voice on the telephone

In between I remember
Just before we wound up broken-down
We drive out to the edge of the highway
Follow that lonesome dead-end road sign south

We're all in this thing together
Walkin' the line between faith and fear
This life don't last forever
When you cry I taste the salt in your tears

Come my friend, let's put this thing together
And walk the path our worn out feet have trod
If you want, we could go on forever
Give up your jaded ways, spell your name to God

All we are is a picture in a mirror
Fancy shoes to grace our feet
All there is is a slow road to freedom
Heaven above and the devil beneath" -old crow medicine show
Tuesday, July 22nd, 2008
---
12:37 pm
Monday, February 26th, 2007
---
8:07 pm
- until the last breath we take
Friday, December 15th, 2006
---
12:01 pm
- gainesville houses I - IV
the first house i lived in when i moved here had fire ants, rats, and fleas (travelling kid brought a dog).
k-flow, one of my seven boy roommates gave me most of his good 7" when he went on this spiritual enlightenment at the end of the year.
the other six were: jake, mike, other mike, david, mooky, and rio. there was one girl, too...traci bryant.
when i moved here i went from really happy to really sad to really happy to indifferent, if that implies being numb.
i hit one of my friend's cars when he was visiting from out of town.
i met kathleen kennedy.
i got a brown 10 speed bike.
i stopped taking anti-depressants....they were making me...sad.
i wrote a 'zine but never printed it....i drew a lot. i sewed a lot.
i met ericka and jonas.
i met anne...my older gainesvilllian from naples girl friend.
emily was the first girl i became new girl friends with.
katy was dating a guy named chris, but katy and i didn't talk much when i lived at the first house.
i worked a lot and started a semester of school.
i told my parents about my tattoos.

i moved across town.
in with mariah, 18, and cody, 27(?)...brother and sister.
mariah's mom wrote me excuse notes from school so i got out of tests...twice. she's a doctor.hah.
i played a lot of records. i got my first tea cup and cozy, victorian style.
i worked two jobs.
i went with anne and her boyfriend in a band hahah to warped tour.
called katy after not talking to her for a long time...she was dating luke, then.
i fell in love with movies like "Hero", and "Spirited Away." no one fell in love with them with me.
i was okay with it.
i met kelly wallace. my cup of tea. my first good friend/kindred spirit in gainesville.
i dated a couple of guys i didn't really even like.
i watched "eternal sunshine of the spotless mind" with a guy i was dating who said, "you really shouldn't watch this
after you've just been in love with someone." what a weird thing to say.

cody moved out, and carrie moved in.
my brother sent me letters from jail.
i didn't give my heart to anyone that year. i didn't pretend to, either.
what you see was what you got.
i baked a lot of people cookies and little cakes. especially eric and his wife.
i rode my bike 16 miles a day at one point just to feel alive.
and feel alive, i surely did.
my dodge neon died.
i got a "new" old, old car that belonged to an old lady and had a jesus card inside the ashtray my mom told me would protect me.

kelly introduced me to jim.
he bought me presents every day and flowers every week. and it was weird.
i didn't return his phone calls for some time.
then i started dating him.
i visited katy in st. louis.
i met matt tenney and brian.
i went to omaha for new years.
and then back to gainesville.
i started hating the house i lived in from all the parties and mud people tracked into our house, and all the punk kids.
so i moved.
in with jim.
i didn't talk to anne for some time.
i didn't ride my bike.
i met olivia...but we weren't really good friends yet.
i met kevin, but we weren't friends yet.
i wondered if that guy was being nice to her...anne.
i changed my major to fine arts...whatever that means.

my parents bought a house in gainesville (they were supposed to move into in less than 6 months).
i moved across town.
kevin and thomas became my roommates.
i adopted a rescued dog...bill named her Lois, i kept the name.
thomas moved out.
i almost died from donating plasma. it was shitty. and i had to
press the company to pay for my hospital bills...it went on for months and months of calling them every day.
i lived on the side of a brick wall with no windows...not really, but you know...i was lonely.
kevin started dating aimee.
aimee and i made ceramics together.
olivia and i became really good friends somewhere in between the third and fourth living situations.
then a mess of things.
and i became really good friends with kevin before all that mess.
and better friends with aimee.
and even better friends with olivia.
eric carlson moved to VA.
i met cason somewhere in between all this.
i broke my hand.
mikey and olivia slept in sleeping bags with me for a week, and we all went swimming the day after a bad day.
i got my camera in the mail.
i started taking pictures.
i made plans to fly to chicago.
i went to chicago.
katy got to be so beautiful while we were apart...we got to hold hands.
a most affectionate friend.
my friends wear a golden halo, i thought.
i saw friedlander.
i went lots of places with matt tenney...i felt like we were vagabonds, at times.
i wrote on a piece of paper to a stranger about you, and told my dad that night about you.
i came back from chicago wanting to move there even more.
for a thousand reasons...but namely three.
my face and heart and mind were better than they ever have been.
and i heard anne got married by the time i got back.


i have love in my heart.
i tried to write of the first things that reminded me about all of those places.
and i came up so short in the last because i feel shy writing them now.
i hope there were more positives than negatives, because now i am sure there were.
Saturday, May 20th, 2006
---
3:20 pm
1. anyone want to make me a mixtape? trade a mixtape? (i like everything; no snobs preferred to do trade)....


2. can anyone fix my record player? know where i can get a cheap, but WORKING receiver (so that i can listen to my records/make mixtapes)?
i miss my records and i miss buying records. there is a halt that needs to get going again.


3. anyone have
KWAIKITUL CANNIBAL SOCIETY 7"?
i will pay wise for that record.

4. anything like SKYLAB online these days???...oh, the good ol' damn days.


any answers/suggestions to above questions would be great.
THANKS
Monday, May 15th, 2006
---
4:11 pm
"Heroin Addiction

Heroin addiction is a disease that affects a person's entire being, and although heroin addiction can be extremely powerful, drug treatment is the most effective option available for those who want it. Heroin is a fast acting opiate and has addictive qualities that hook people into a life of heroin addiction. There are many risks involved in the heroin addiction lifestyle, and once people begin to use the drug, they are at risk of receiving disease such as HIV as well as subjecting themselves to other dangerous situations.

People suffering from heroin addiction are often unable to see clearly because the drug has started to control them. A person who was once responsible, compassionate and intelligent, will begin lying, forgetting about bills and payments and stealing from loved ones because he/she needs to feed the heroin addiction. The feeling that a heroin addict feels after using the drug is so powerful that nothing in the world matters any longer. The strength of heroin addiction comes mostly from the way the drug reacts with a person's mind. The effects of heroin are felt almost immediately after the drug is placed in the body and it reacts with the brain by blocking important pain receptors and neurons that send messages back and forth between the body and brain. Some users say that heroin makes them feel like they are floating or invincible, others say that they feel numb. Either way, heroin addiction tricks the body and mind into believing that it feels good, when in reality the drug is dulling the senses and intoxicating the body with poison.

Heroin's potency leads to a high frequency of heroin addiction. Heroin addiction, like all other forms of drug addiction, has symptoms including an unshakable craving or obsession for the drug as well as increase in the amount of heroin that is needed to feel high. Because heroin is expensive, and an addict's tolerance increases over time, people with heroin addiction ruin the lives of people they love in order to satisfy their addictions.

The obsession or craving that characterizes heroin addiction comes in the form of a desire or thought that the person needs more heroins in order to live and function normally. The thought of going through another five minutes without the drug scares them to the point where they will go to any length to get high again. The physical dependence felt as a result of heroin addiction can only be broken when a person is able to completely rid the body of the drug.

Many users are never able to stop doing heroin, either because they have gone too far down in the disease, or because they are unwilling to get or ask for help. In many other cases, however, heroin addiction is treatable if a person undergoes the proper medical detoxification process and proceeds with drug rehabilitation. During drug treatment heroin addiction is attacked from all sides, teaching the addict how to live without the drug as well as uncovering patterns and behaviors that lead to the use of heroin."

1-877-4-drug-abuse
Sunday, June 12th, 2005
---
12:15 am
- are you a god in my arm
our computer has been attacked with a lot of spyware/adaware/viruses/worms. it sort of logs on now, because we have norton go-back. but pretty much it doesn't work for shit, and a thousand pop-ups come up if you try to open a website.
so i won't be able to use the internet until school starts again in the fall. our library doesn't have a big enough "lab"...i think, maybe, 10 computers. how can that be? but i dunno.



i'm okay. i'm struggling with some things.
i'm trying to teach myself some things about art, because i don't like the whole gap of summer.
how my job swipes my motivations to live. i did something about that, in a way: i start my new job on tuesday. i don't know if it's good or bad, necessarily, because tuesday hasn't come yet.

i sent my brother the longest letter last week. it hurt to write it. it hurt to dream the dream i wrote about.
the one in my sleep that made me want to never come back. did i die in the dream just to live a life?
of what?
was mrs. stutzman's last letter not enough to inspire? the last letter never came. the last few questions i had for her, could i spare her in her times of suffering, i could not be selfish. here i am wandering.

i go to the bookstore at nights, i wander. i look at portfolios and ads, and i wonder.
and i have a thousand ideas of my own. and no way to express them. because i have yet to learn.
it is very frustrating.
to know every corner and detail and slope and sound, and not be able to gesture them as meticulously, and masterly as you would like to RIGHT NOW.

i have read over so many critiques, so many thoughts, cylinders of style, characterizations and artists pleasing some form of identity in this world.
i just don't know.

anyhow...i will post this before the computer makes me crazy with these pop-up ads
Tuesday, April 12th, 2005
---
1:33 pm
- loud



where the lens is a blade and the question is the same
and the stairs are a radio
in tampa

can we have some part of it
Wednesday, March 23rd, 2005
---
3:15 pm
i've just finished my first painting. first successful creation this year.
i've never taken art classes before, but i think that i know for sure i want art to be a huge part of my life. that i will be a sick person without it.
i guess you'd have to know of the kind of disappearing acts we're known to put on from time to time.
to know that intellectualism isn't exactly my boat.
i'm afraid of my materials, but i also know its depths, and that it is essential to crawl inside of them as a pilot would a cockpit. you gotta steer also, and all that shit. but i'll figure that out later, maybe.


jim is writing his paper today. awesomee. he is three classes away from graduation at UF. i wish i were so close.
i'm going to study for my tests today and get A's. (hopefully)
i hate going to school, just the actual process of sitting in a refrigerated classroom for one hour and fifteen minutes, as the last fifteen minutes slowly breathe their last.
i really hated three-hour classes...so i've halved them and all. but still it is annoying to be there sometimes. although homework isn't so hard for me lately.
i'd rather do all of school at home.

boy, i sure do miss katy.